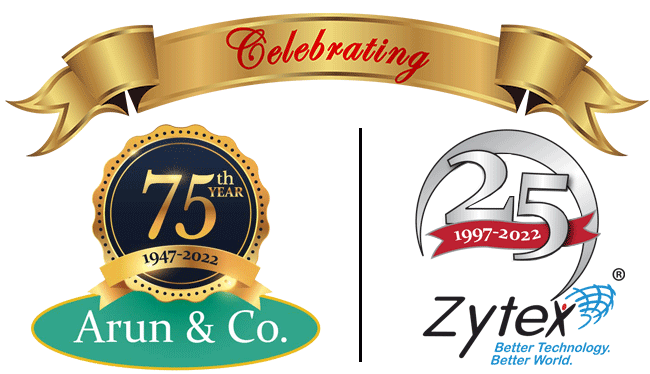 August 2022 is a great milestone for our company.
We are celebrating the
75th year of Arun & Co.
,
the founding company of the Zytex group, and the
25th year of Zytex!
Arun & Co. was established in 18th August 1947, and this year we celebrate our Platinum anniversary. Zytex was established in 1997 and this year we celebrate our Silver anniversary. This is an admirable achievement, as very few family-owned companies in the world reach such a milestone and continue to grow.

It is possible for an organization to exist for more than 75 years only with the trust and support of the people we work with – our valued clients, distributors, business partners, vendors and employees. From a small trading company born at Princess street, Mumbai, it is now a multi business group with a major focus on technology and manufacturing.

We would like to thank each one of you, who have been part of our success, and, we aspire will continue to partner with us in this memorable journey. You all are an integral part of our family, and we look forward to many more milestones with your support.
Mr. Dhansukh Doshi - Managing Director
Mr. Rashesh Doshi - Director
Mr. Ashwin Doshi - Director
Mr. Jayraj Doshi - Director